Are you "missing the boat?"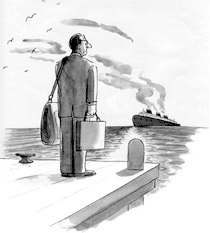 If you are hunting for that elusive Vermont ancestor and your searches keep coming up empty maybe you havent gotten on-board with a new tool on our website? Too many of our members are overlooking one very useful resource that is free with their memberships – all the hundreds of other members with skills, ancestors and knowledge about specific towns.
Cheryl Johnson (#983) can't research our town offices and libraries easily from California. But she has certainly learned the value of our community of local experts. As a new member she recently posted a query on the forums in our Members Only area asking about Isaac Sweeny born in Vermont in 1831. Tom Wheel (#985) wrote back to her in his first week as a member. Tom had researched a distant uncle and encountered lots of data on Isaac's family including a critical name change. What was the real name?? Where did Isaac's ancestors come from?? Here's a clue – it wasn't from the 'Emerald Isle,' after all.
A few months earlier Joanne Crawford (#930) had a different problem. She could only find Homer Messier in only one Vermont census even though he was believed to have lived in the Franklin, VT area for decades. Where did he go?? Turns out he didn't go anywhere. Tom Devarney (#441) found him - again and again and again!!
Discover how our newest member - from the state of Georgia - helped a member from the west coast. And learn how one of our ace researchers solved the Homer Messier puzzle for Joanne and opened the door to dozens of new sources. Go to the top of this page, click on "Forum" and view the Surnames forum to find those answers and over 500 new sources – your fellow members! It's time you started cruising those genealogical seas with friends.