EXCLUSIVE VERMONT BAPTISM OR MARRIAGE RECORDS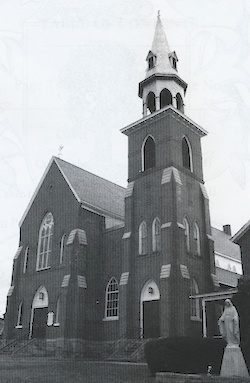 On 27 January 2004 the VT_FCGS received sole permission from the Presbyteral Council of the Diocese of Burlington to copy and publish.... (read more)
VT-FCGS is preserving the Diocesan records of Marriages and Baptisms from the founding of each church, up to about 1930. Some records go beyond that date. See our
Books For Sale
listing at for the specific date range for each church. We have agreed with the Diocese, not to place the total files on the Internet, however you can search the Index of Baptisms & Marriages here and see which Vermont churches your ancestors may have attended.
After locating one or more family history ancestors you may:
Order via USPS:

For specific Baptisms you may write us at P.O. Box 65128, Burlington, VT 05406-5128, be sure to enclose a check and the correct Baptism or Marriage IDs and surnames you'd like mailed to you.



Order via our online store:

Use our online store with the links shown below, members seeking a discount will be checked against our current roster of members.
What you will receive.
When you order a record you will get a copy of the entire page of the book that contains the record, here is a partial page. Since the book is alphabetized a few judicious purchases will allow you to reconstruct the portion of the book you are interested in. How to read the records.
Note: The records placed in this book reflect the church records to our best ability to read them. The information in between parenthesis (xxx) reflects additional pertinent information gathered by researchers from town, state,or personal family records. The source is given in the NOTE field. Lines where information is blank are not printed. e.g. Baptism A Residence & Notes When only I residence is listed in a record, its fair to assume that it is the residence of both theBride and Groom. Many "See" records have been inserted in order to guide you to other records for this person or family. They may indicate a family that used multiple names, or a mother' s family using multiple names.
We are an all-volunteer organization, please
allow 2 to 4 weeks for delivery
regardless of the ordering method you choose.
Select a Category and Begin Your Search of Exclusive Vermont Parish Baptism and Marriage Records
Page Last Modified: November 10, 2016 14:32:51.