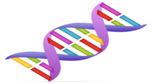 I recently had my DNA tested along with that of my 84 year old mother. There had not been much time to explore the results and I was looking forward to learning more about how to explore over 250 matches for each of us. So I attended the monthly DNA Special Interest Group at the Vermont Genealogy Library in Fort Ethan Allen, Colchester, VT.
Ed McGuire was explaining how some new analysis tools worked and was using his own data as a model. All of a sudden I saw my Mom's name in his matches! Unable to contain my surprise, I blurted out, "Hey, that's my Mom! Scroll back! You have a match with my mother!" All teaching stopped for a moment as Ed and I shared a "Hey, Cousin!" hug and double high fives.
With no known family ties to Vermont, I never expected to find a "cousin" here. But for many of us, our French Canadian links are not so far back that they cannot be found with autosomal DNA testing.
I can't wait to figure out which other friends, neighbors, and friends-yet-to-be-made we are related to.
-Jane Duchesneau Whitmore, Member #486