We are very happy to announce a new benefit of membership in our society.  FindMyPast (FMP) and the Federation of Genealogical Societies (FGS) have negotiated a subscription discount for societies which are affliliated with FGS.  As a result, our members may immediately subscribe to  FindMyPast – World for half of their normal price – a savings of about $100.
We'll discuss subscription benefits below.  But first, for those who can't wait, here's how to sign-up:
Go to www.vtgenlib.org
Click on the 4th tab – "Members" and login with the 'Members' UserID & Password
On the top left of this page is a link "FindMyPast Special Offer" below the FMP logo
Click that link and follow the instructions
(If you have any issues please write to us at:   webmaster@vtgenlib.org).

Which genealogists would benefit the most from the collections at FMP?
Anyone

searching for English, Welsh or Irish ancestors
Researchers who have ancestral lines in New York state
Those doing census research in the United States or searching in journals
U.S. Content

: 
The American records at FMP include all U.S. federal census enumerations, numerous state censuses and a small but growing collection of state vital records.  In addition, FMP has partnered with the Allen County Public Library (ACPL) to offer new features for the Periodic Source Index (PERSI) – a key tool for finding already published articles of interest in journals and magazines.  This partnership was announced in July of 2013 and it heralds new capabilities as noted in their press release:
"During the past 30 years, the ACPL Genealogy Center has created more than 2.5 million searchable records in PERSI, indexing every article from more than 8,000 different periodicals, including magazines, newsletters and journals, according to location, topic, surname, ethnicity and methodology. In the coming months,findmypast.com will launch the most complete version of PERSI online. Once launched, findmypast.com will work in tandem with the Genealogy Center to provide frequent updates to the collection as new entries are added.
"PERSI has become an essential tool in helping genealogists and family historians locate valuable information, and this new partnership with findmypast.com will transform PERSI into an even more powerful resource.  Findmypast.com subscribers will be able to search and view digitized images of the articles, allowing unprecedented access to the information contained in these periodicals."
New York State Content

:
On September 18, 2015, at the New York State Family History Conference in Syracuse a partnership was announced between FMP and The New York Genealogical & Biographical Society making key New York records available on the FMP website.  The announcement included these observations:
The NYG&B eLibrary, newly available online, is comprised of a growing collection of extraordinary record sets. The most important is the entire run of the NYG&B Record. The Record has been in publication since 1870 and is the second-oldest genealogical journal in the United States. For the past 145 years, it has solved genealogical problems, provided compiled genealogies, published transcriptions of original records and offered research guidance to the many families who have contributed to the rich diversity of what is now New York State.
Karen Mauer Jones, editor of the NYG&B Record, said, "Making the Record searchable on Findmypast significantly increases the utility of what is certainly the single most important scholarly resource that exists for people researching New York families." Other collections range from census fragments unpublished elsewhere, to marriage & death abstracts, baptism registers and fascinating historical diaries.
In addition to making hundreds of issues of the NYG&B Record searchable on FMP this will provide numerous smaller recordsets for researchers – as well as the Vosburgh Collection of church records. That collection includes over 50 parishes covering 1716 – 1914.  The collection includes numerous denominations but is primarily focused on Presbyterian and Dutch churches.
Irish Content:
After acquiring IrishOrigins.net in 2014, FindMyPast became the best website for searching Irish records. Here are their top 5 collections as described by FindMyPast themselves:
Life Events, 1864-1958: The birth, marriage and death records for your Irish family stretch back to the 13th century, covering the entire island. One of the most important is the Index to Civil Registration, beginning in 1864 for most individuals. The supplemental materials to the index include obituaries, indexes to wills, gravestone details and more.
Landed Estates Court Rentals 1850-1885: This valuable collection, which includes more than 8,000 estates and over 500,000 tenants, details the sale of bankrupt estates and the history of these properties from across Ireland. The Rentals, which are effectively printed sale catalogs, include information on the estate itself, the agreements with each tenant and other considerations important to perspective buyers.
Griffith's Valuation: Considered one of the most important sources as a "census substitute" to replace the Irish census records lost from the nineteenth century. Between 1847 – 1864, Richard Griffith was responsible for conducting the primary Valuation of Tenements across Ireland, and are commonly referred to as "Griffith's Valuations." The information was compiled into over 300 volumes, and the version found on Findmypast is the most complete online set, and includes all revisions and amendments. It was developed by Eneclann Ltd, OMS Services and The National Library of Ireland.

Irish Newspapers, Directories & Social History Records: Newspaper abstracts, regional and land directories, and almanacs make up this massive collection, the most comprehensive collection available online today. Dating back to 1783, these records include tradesmen, hotels, schools, even pubs, for each town in Ireland, as well as full alphabetical directories of farmers and other residents not listed by trade. The newspaper collection includes Byrne's Irish Times Abstracts from 1859-1901, which included extracted information from the Irish Times covering daily events of interest.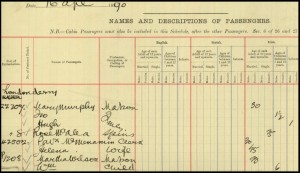 Petty Sessions Order Books: One of the most extensive sets of records about the general population of Ireland, with many millions of cases; these are the court records of the common man. The lowest courts in the country, the Petty Sessions Court dealt with the vast majority of lesser legal cases, both civil and criminal.
English/Welsh Content:
FindMyPast.com has the largest collection of English/Welsh records on the internet.  They consider the most important to be:
Census: The England, Wales & Scotland 1841 – 1901, and England and Wales 1911 census records are available via Findmypast, as well as electoral registers, land tax records, rate books and more. Census records – and census substitutes – allow you to build a substantial platform for your family tree.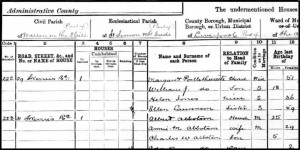 Parish Records and BMDs. Findmypast features a complete set of birth, marriage and death records from England & Wales beginning in 1837. Our parish records, many of which are only found at Findmypast, date from 1538 and cover christenings, marriages, and burials across many areas of England and Wales.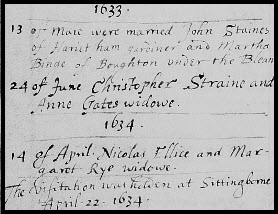 British Newspaper Collection: Gathered from one of the largest collections in the United Kingdom, our British newspapers include thousands of local and regional publications from across England, Wales and Scotland. Each page is fully digitized and every word has been made searchable. The opportunity for you to make new discoveries, explore social history and uncover historical context is outstanding. 
British Army Services Records 1760-1915: It is possible to find soldiers in this collection that have hundreds of pages of material! Description books that pre-date photography as a tool for the military, militia service records and Imperial Yeomanry from the South African War are just a few of the highlights that create this incredible collection. Anyone with British military ancestors could find a great deal of information within this collection.
Passenger Lists Leaving UK 1890-1960: Whether emigrating or traveling for work or pleasure, the collection features all passengers leaving the United Kingdom from 1890 to 1860. Passenger lists include families headed towards the United States who passed through a UK port at any time during their travel.
The British census records include 224 million entries. The vital records include 243 million births & baptisms as well as 164 million marriages & divorces and 146 million deaths & burials.
Summary

:
If this brief review of the benefits of a subscription to FindMyPast.com still leaves you on the fence then I have a final suggestion –  first try a 14-day free trial from the FMP website (when you know you'll have time to do some serious research).  You'll have to register and use a credit card so choose the "1 Month" trial instead of the "1 Year" version and immediately cancel automatic renewal.  After two weeks you may find FMP hard to resist at this price – especially if you have Irish, English or Welsh ancestors.