Germans still remain the largest single ethnic group in America. And the largest single migration of Germans to America began in 1710.  About 3,000 Germans arrived in New York City (pop. 7,000)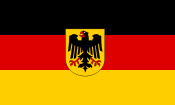 , much to the chagrin of the local athorities who placed them on Governor's Island (due to their poor conditions and rampant illnesses).  Eventually the majority, 857 families, were settled by Governor Hunter on the banks of the Hudson River and, later, in the Mohawk Valley.  Today, hundreds of thousands of Americans, including Elvis Presley (Bressler), are descended from these intrepid immigrants who sought a better life in the American colonies.
The definitive work documenting this Palatine settlement in New York is Hank Z. Jones' The Palatine Families of New York, a two-volume set which covers all 857 families in detail.  Both volumes are now in our library and catalogued under New York State.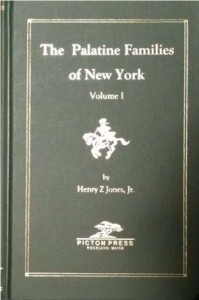 These two books cover the arrival of the Palatines in New York City, their initial settlement in the Hudson Valley and their establishment of final homesteads in the wilderness of upstate New York.  He created a sketch of each couple, traced over 500 families back to Germany, documented their hometowns and parents, and then followed these settlers for two more generations.  This carefully documented work won the prestigious Donald Lines Jacobus  Award as 'Best Genealogical Work of the Year' in 1987.
Praise for this work included the following:
"Extraordinary!… The most important study ever taken of this group… An essential work for both historians and genealogists."
–The American Genealogist
"A major genealogical achievement…will probably never be superseded."
–The New York Genealogical & Biographical Record
"One of the most awaited books in the history of modern genealogy…truly a masterpiece…a monument to the modern "scientific approach," and must be ranked with the classics."
–The Canadian Genealogist
This work is important to Vermonters because, although it is not always known to their living descendants, more than a few of these German families later made a convoluted journey to Vermont.  It started with the French & Indian War.  Invasions by the French and their allies into sparsely populated upstate New York resulted in villages and farms being burned, sometimes in response to raids by the English and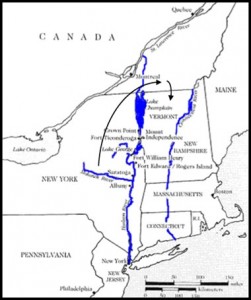 the Iroquois.  The growing settlement of Germans volunteered to provide aid to the British King and fought valiantly to defend the colony of New York.
Their strong ties to the British Army and their local militia placed many of them on the wrong side of the Revolutionary War – less than 15 years later.  As a result many lost their land & property and fled to Canada.  About 2,000 ended up in the Eastern Townships on virgin land granted to them by King George.  More than a few of these new 'Canadians' would find their way south to Vermont within as little as 10 years.  This mini-migration continued for decades.
One example was Philip Ruiter who served in the Loyalist Rangers for the British.  His family had farmed in the Mohawk River Valley for years and had to flee north. They settled in Caldwell's Manor and a son, Samuel, was born in 1800.  But a careful reading of the 1870 U.S. Census finds Samuel living in Holland, VT along with his son Frederick and Frederick's family.
A similar fate met John Michael Lampman of Hoosick, NY.  He flees to Stanstead yet is already settled in Swanton, VT by 1791, having bought land from Ira Allen.
If you suspect some German ancestry in your Vermont roots don't think only of the 'Hessians,' keep in mind those Palatine immigrants in New York State whose final destinies may have been to end up east of Lake Champlain!!