Beginning this January the Vermont Genealogy Library is adding FindMyPast.com to our collection of subscription databases on the library's computers.  FindMyPast has by far the largest set of online records for the British Isles and recently acquired both British Origins and Irish Origins, allowing it to significantly boost its resources.  A detailed look at what is available on this site was  provided in a previous post (here).
Our library's online subscriptions now include:
AmericanAncestors – the best genealogy website for New England's first 200 years
AmericasCivilWarDatabase – the largest site covering all union & confederate military
Ancestry – the largest subscription website covering the US, Canada & the world
FindMyPast – the best website for British, Welsh and Irish records
LaFrance Collection – the most complete set of original Quebec Vital Records
PRdH – transcripts of all Catholic vital records by family unit – with links between generations
This collection of resources allows genealogists to track their Vermont ancestors back to the two sources of most of the state's settlers – southern New England and the province of Quebec.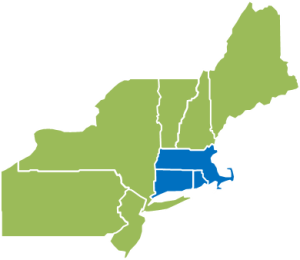 The New England Historic Genealogical Society in Boston has the largest set of records for Massachusett, Connecticut & Rhode Island – the orginal home of the majority of Vermont's settlers.  Their website, AmericanAncestors.org, provides access to this collection.  It also provides records for New York, New Jersey, New Hampshire and Maine – secondary points of origins for the first Vermont families.  These settlers were primarily of English, Irish, Scottish and Welsh ancestry.
The other major influx of Vermonters was from Quebec and today about 30% of the state's citizens have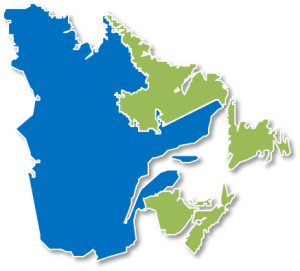 roots from north of the border.  The superb Quebec records maintained for over 300 years cover baptisms, marriages and burials from all the parishes across the province.  By identifying the Quebec home of your first ancestor to enter Vermont you can begin the journey back through all these records. PRdH contains transcipts of these millions of records in a format that links family members – making it much easier to quickly navigate from parent to children or back to grandparents and then to their parents. PRdH provides links back to LaFrance which can then take you directly to the original document about this event in your ancestor's life – often including her or his signature sometimes from the early 1600s.  For those immigrant ancestors from France you can often find the parish and town where they lived before they crossed the Atlantic and then continue your research in the free archives of France's 96 departments!
Searching throughout the rest of the United States & Canada can be accomplished using our subscription to Ancestry.com which also has some excellent collections for parts of Europe.  Ancestry definitely has the best collection of immigration records and a full set of US and Canadian censuses as well as millions of family trees, digitized genealogy reference books and lots more.
America's Civil War Database is available for those looking for Civil War veterans. It provides name, hometown, service unit, date/place of enlistment, injuries, deaths and discharge dates.
FindMyPast provides access to resources in England, Wales, Northern Ireland and the Republic of Ireland. As mentioned above, these were covered in some detail a couple of months ago and that blog post can be found here.  These records can go back quite a ways in the British Isles

as this 1682 log of baptisms demonstrates from Caernarvonshire County, Wales. In Anglesey County the records go back almost 350 years and include over 80,000 marriages and 246,000 baptisms.  And FindMyPast takes you to the actual image from the Welsh record book – not just a transcript.
Also, don't forget that your ancestor might have served in the military or civil service.  FindMyPast has those records, too – for service across the globe.  A cursory look found the following for the British India Office:
Baptisms:   700,000
Marriages:  457,000
Burials:       585,000
Pensions:   392,000
So where ever you are looking – we have many of the best online resources to assist you.  If you are local please stop by the library soon.  We have a dozen computers with internet access to these databases. If you live outside Vermont and have a specific event you want searched in a census or a state/county vital record write to us at: library@vtgenlib.org.