FindMyPast (FMP) has announced that their entire collection of 110 million Irish records will be free from March 1st to March 8th.  This is a great opportunity to familiarize yourself with these databases which, together, comprise the web's largest set of Irish documents and vital events.  Members in our local area can get a huge 'jump start' by locating &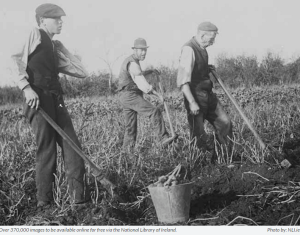 investigating those collections which are most critical to their family research.  Once familiar with navigating the website and finding critical documents you can then continue to mine these resources using our Library subscription to FMP throughout the year – again, for free.  This is a great opportunity to not only uncover a few pieces of information about your ancestors in the next few days – but also to develop the skills to maximize your efficiency when using FMP at the VT Genealogy Library.
In the same press release FMP announced that they have now indexed the entire set of Catholic parish registers (1670-1900) that were made available on the internet last July by the National Library of Ireland (NLI).   Just like the NLI images themselves, this indexing will remain free for all to use – greatly increasing the value of this tremendous collection of Catholic vital records.
So find some time in the next few days and take advantage of this opportunity.  For more details about the collections at FindMyPast.com you can go to this previous post on our blog:  FindMyPast Discounts
Here is the text of the FindMyPast press release:
10 Million Irish Catholic Parish Records Free Forever To Search Online
Records span 200 years of Irish history (1670-1900), contain 40 million names, cover 1000 parishes across all 32 counties of Ireland
Collection forms the most important resource for Irish ancestors prior to the 1901 census, allowing researchers to trace their roots back to Pre-Famine Ireland
Reveal how Great Famine halved the number of Catholic baptisms
Findmypast makes entire Irish collection of over 110 million records free from

 

Tuesday 1st of March until Tuesday 8th March
Dublin, 1 March 2016
Leading family history site Findmypast has announced today the online release of over10 million Irish Catholic Parish Registers as part of their ongoing commitment to making Irish family history easier and more accessible than ever before. Fully indexed for the first time, the registers form one of the most important record collections for Irish family history and are free to search forever.
Spanning over 200 years of Ireland's history from 1671-1900, the Irish Catholic Parish Registers contain over 40 million names from over 1,000 parishes and cover 97% of the entire island of Ireland, both Northern Ireland and the Irish Republic.
This is the first time that National Library of Ireland's collection of Irish Catholic Registers has been fully indexed with images to the original documents linked online. The records can now be searched by name, year and place, allowing relatives and historians the opportunity to make all important links between generations with the baptism records and between families with the marriage registers.
The indexing of these important documents also allows researchers to witness the devastating effects of the Great Famine (1845-1852) first hand. Using the records to examine baptism rates in pre and post Famine Ireland has revealed that the number of children baptised across the whole of Ireland dropped by more 50% in the decade that followed. Across all 32 counties, 2,408,694 baptisms were recorded from 1835-1844, while 1,109,062 baptisms were recorded between 1851 and 1860, a difference of more than 1,299,000 baptisms.
The records also reveal the worst affected regions, with counties Limerick, Wexford, Roscommon and Kilkenny seeing the most dramatic drops in baptism rates.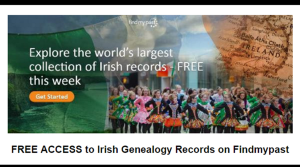 To celebrate the release of this essential collection, Findmypast is also making its entire archive of over 110 million Irish records, the largest available anywhere online, FREE from 9amTuesday 1st March to 9am on Tuesday 8th March. Findmypast is home to the most comprehensive online collection of Irish family history records with millions of exclusive records, published in partnership with The National Archives of Ireland, The National Archives UK, and a host of other local, county and national archives.
Brian Donovan, Irish records expert at Findmypast said:
"This important publication marks a further step in Findmypast's commitment to making Irish family history more accessible. In less than 5 years, we have made over 110 million records (with 300 million names) available online for the first time. Irish research has been transformed from the select pursuit of the few, to a fun and relatively easy hobby for the many. The Irish story of hardship, migration and opportunity is a global story, and in partnership with the cultural institutions around the world we are bringing the fragments of their lives within reach".
About Findmypast
Findmypast (previously DC Thomson Family History) is a British-owned world leader in online family history. It has an unrivalled record of online innovation in the field and 18 million registered users across its family of online brands, which includes Lives of the First World War, The British Newspaper Archive and Genes Reunited, amongst others.
Its lead brand, also called Findmypast, is a searchable online archive of over eight billion family history records, ranging from parish records and censuses to migration records, military collections, historical newspapers and lots more. For members around the world, the site is a crucial resource for building family trees and conducting detailed historical research.
In April 2003, Findmypast was the first online genealogy site to provide access to the complete birth, marriage, and death indexes for England & Wales, winning the Queen's Award for Innovation. Since that time, the company has digitized records from across the globe, including major collections from Britain, Ireland, Australia, and the United States. Findmypast, in association with The National Archives, recently launched the 1939 Register, a record of 41 million lives on the eve of World War II.